What can you make with a bag of cavolo nero? Answer - almost anything! From salads to soups and stir fries, there are so many different ways to cook and enjoy it; it truly is a versatile veg. With most of us cooking far more than we usually do and restaurants closed for the foreseeable future, we thought you might appreciate some super quick and easy meals! So here are three of our favourites – which show that, in fact you can eat GREEN in 15! Plus we've thrown in a bonus baking recipe because, well, it's one of our favourites and everyone needs something sweet to round off a good meal!
If you can boil water, you can make this! Packed full of Asian flavours this dish is certainly going to be one you turn to when you need nourishment FAST. We love it for lunch, but it works as a light dinner too.
One day it's scorching the next the central heating's back on again! This soup is perfect whatever the weather. It's light, slightly spiced, and another easy, nutritious dish that cooks in just 15 minutes. Omit the chicken for a vegetarian soup or leave out the egg too and throw in some pak choi for a vegan alternative.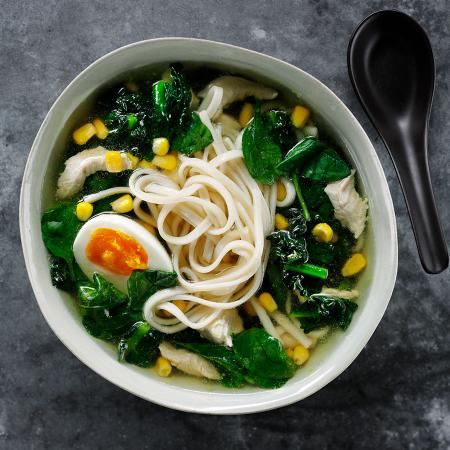 Bagged cavolo nero comes ready chopped, and if you buy the other vegetables ready prepared too, this stir fry couldn't be easier (or tastier!) If you prefer a meatier option then throw in some cooked chicken or whatever takes your fancy.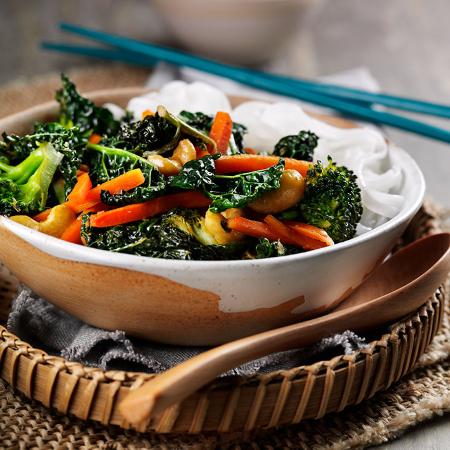 Finally, baking with veg has always been popular; carrot cake for example, is an all-time classic. We started putting kale in brownies a while ago and it's proved a big hit with everyone who's tried it – so we've done the same with cavolo nero too. It adds a little extra depth of flavour – just ever so slightly savoury in places, almost like sweet and salty popcorn. Give them a whirl and let us know what you think…