Cavolo Nero, Noodle and Miso Stir Fry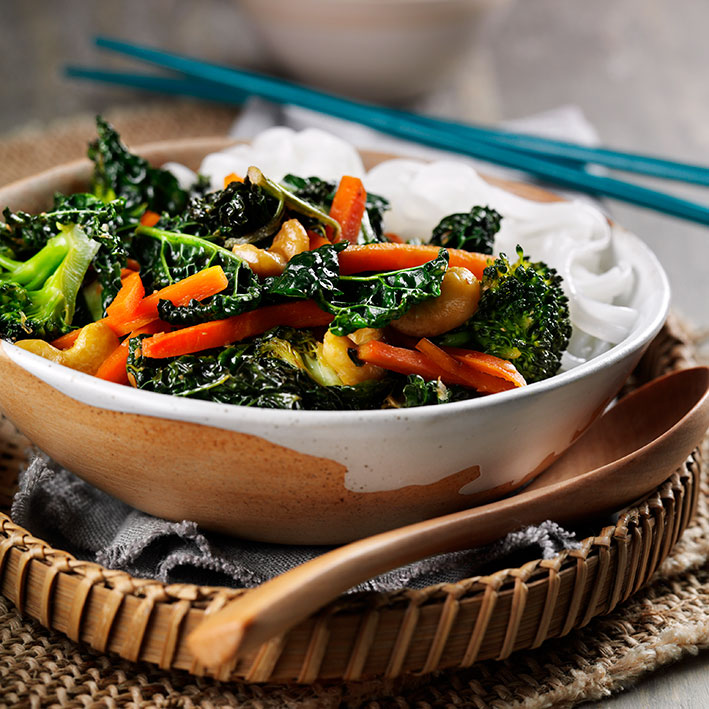 Nutrition Info
(Per Serving)
2.5 g (of which Saturated Fat)
Ingredients
1 tbsp toasted sesame oil
2 carrots, cut into matchsticks
200g broccoli florets
75g cashew nuts
200g pack sliced cavolo nero
1 tbsp miso paste
1 tbsp honey
1 tbsp light soy sauce
2 tbsp Japanese rice vinegar
200g thick rice noodles
For a Vegan Option: Swap honey with maple syrup
Instructions
Heat the oil in a large frying pan and fry the carrot, broccoli, cashews and cavolo nero for 5 minutes.
Blend the miso paste with the honey, soy, vinegar and 2 tbsp water and add to the pan, cover and cook for 5 minutes.
Meanwhile, cook the noodles in boiling water for 5 minutes, drain and divide between 4 bowls, top with the miso stir fry and serve.