Spinach & Pasta Bake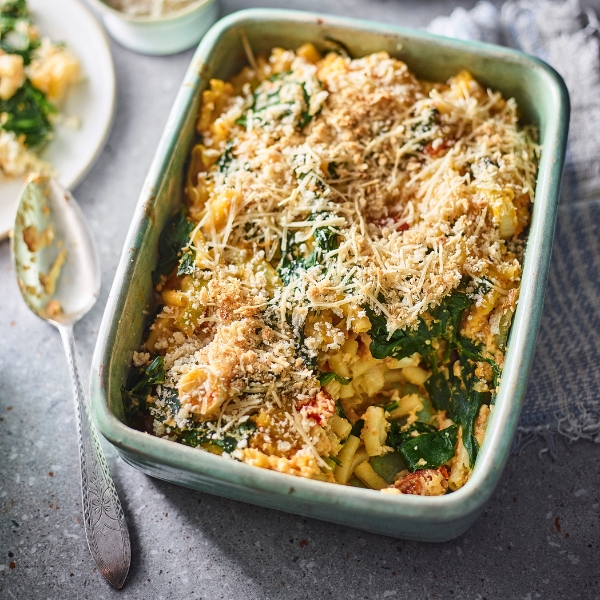 Nutrition Info
(Per Serving)
2.5g (of which Saturated Fat)
Ingredients
100g cashews
1 carrot, sliced
1 sweet potato, diced
300ml almond milk
50g vegan hard cheese, grated
300g macaroni pasta
260g bag Spinach
1 tbsp vegetable oil
1 leek, sliced
100g cherry tomatoes, halved
50g homemade breadcrumbs
Instructions
Preheat the oven to 200oC, gas mark 6.
Cook the cashews, carrot, and sweet potato in boiling water for 10 minutes, drain and puree in a food processor with the almond milk until smooth, season and add half the cheese alternative.
Cook the macaroni in boiling salted water for 10 minutes, add the Spinach until wilted, drain well and return to the pan.
Heat the oil in a frying pan and fry the leek for 3-4 minutes, add the tomatoes and cook for 2 minutes more until softened.
Mix the sauce and leek mixture into the pasta and stir to combine.
Transfer to an ovenproof serving dish, sprinkle with remaining cheese alternative and breadcrumbs and bake for 20 minutes until golden.