Crispy Gnocchi, Cavolo Nero & Tomato One Pot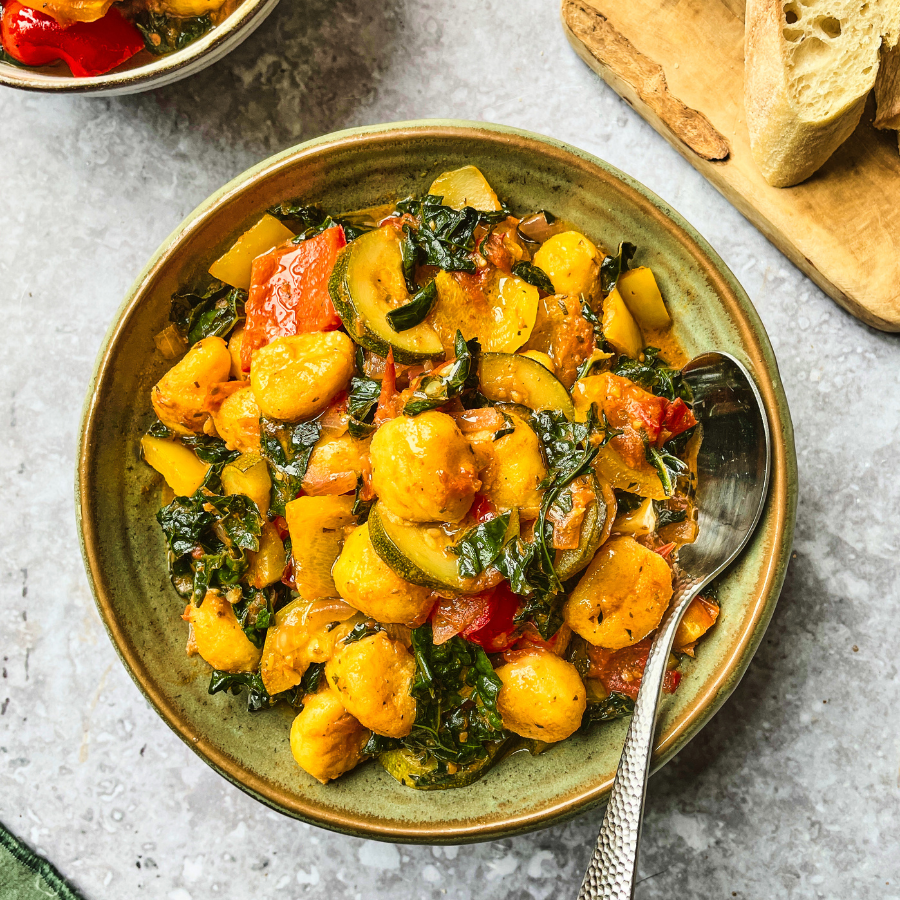 Nutrition Info
(Per Serving)
2.5g (of which Saturated Fat)
Ingredients
1 red onion, sliced
1 tbsp olive oil
4 cloves garlic, sliced
2 orange/red peppers, sliced
1 courgette, sliced
350g pack cherry tomatoes, chopped
1 tsp dried oregano
3 tbsp sun dried tomato paste
350ml reduced salt vegetable stock (made up using oxo reduced salt stock cubes)

200g bag of cavolo nero, hard stalks removed and roughly chopped
2 packs gnocchi (600g)
1 tbsp olive oil
Instructions
1. Add the onion along with 1 tbsp olive oil to a saucepan and fry for 6-7 minutes until soft.
2. Now add the garlic and fry for a further minute or so.
3. Add the pepper and courgette and cook for a further 1-2 minutes.
4. Add the tomatoes, oregano and tomato paste to the pan.
5. Simmer and allow the tomatoes to break down for 2-3 minutes, then add the vegetable stock and cook for 2-3 minutes.
6. Now add the cavolo nero to the pan and simmer for 1-2 minutes.
7. Heat the olive oil in a medium sized pan, over medium-high heat. Add in the gnocchi and fry until golden for a few minutes until golden and crisp.
8. Add the crispy gnocchi to the saucepan and simmer for 1 minute.
9. Season to taste.
10 Serve with crusty bread.