Gnocchi with Cavolo Nero & Hazelnut Pesto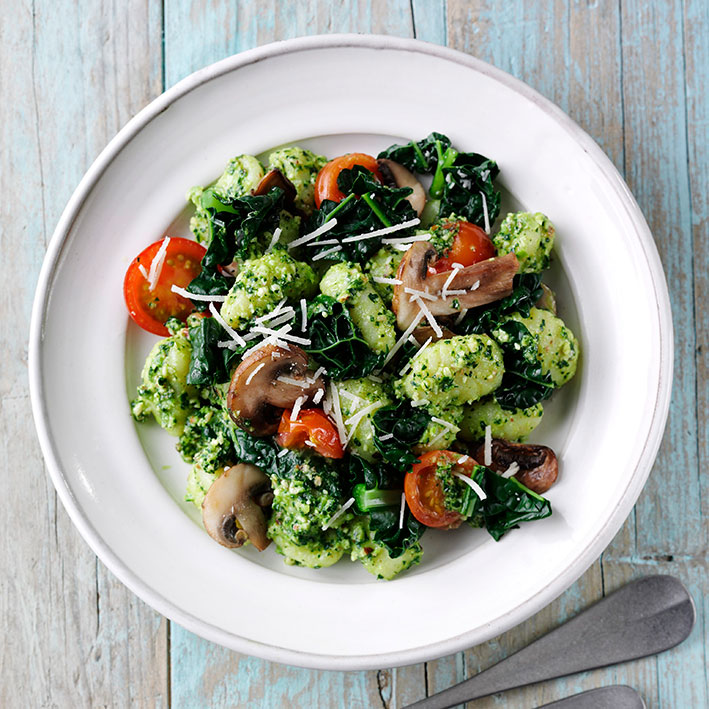 Nutrition Info
(Per Serving)
9 g (of which Saturated Fat)
Ingredients
60g hazelnuts
200g pack shredded cavolo nero
50g vegetarian hard cheese, grated
1 clove garlic
3 tbsp extra virgin olive oil
150g chestnut mushrooms, sliced
150g cherry tomatoes, halved
400g pack gnocchi
Instructions
Preheat the oven to 200°C, gas mark 6.
Place the hazelnuts in a small roasting tin and roast for 5 minutes.
Meanwhile, blanch the cavolo nero in boiling water for 3 minutes, drain well reserving 150ml cooking water.
Place 100g of the cooked cavolo nero in a food processor with the reserved cooking water, hazelnuts, cheese, garlic and 3 tbsp oil and blitz until smooth, season.
Heat the remaining oil in a frying pan and fry the mushrooms and tomatoes for 2-3 minutes then stir in the remaining cavolo nero
Cook the gnocchi in boiling water for 3 minutes until they begin to float, drain and return to the pan, add the mushroom mixture and pesto and stir to combine.
Serve with extra grated cheese on top.