Creamy Cavolo Nero and Leek Soup, with Cavolo Nero Crisps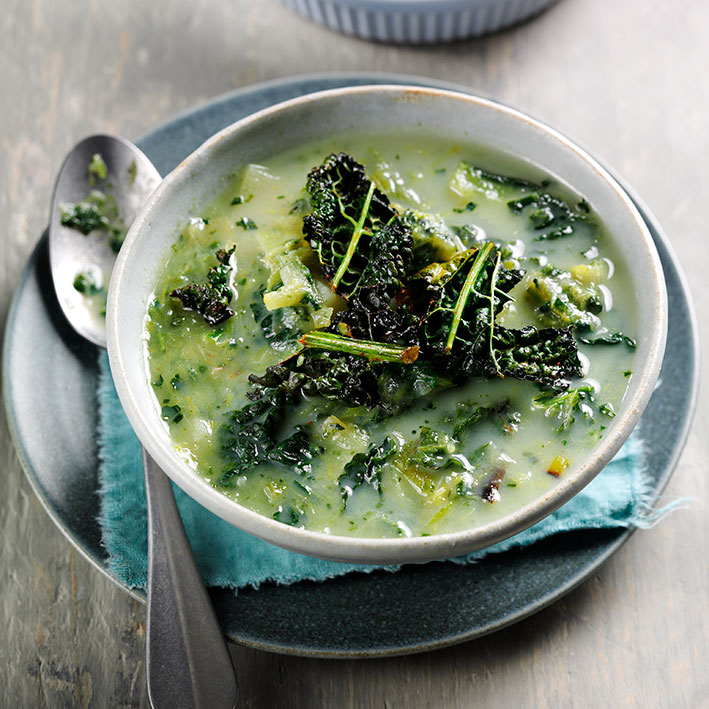 Nutrition Info
(Per Serving)
1.4g (of which Saturated Fat)
Ingredients
200g pack sliced cavolo nero
1 tbsp extra virgin olive oil
1/2 tsp smoked paprika
500g leeks, sliced
1 potato, diced
1 litre vegetable stock
300ml semi skimmed milk
For a Vegan Option: Swap milk with vegan alternative (almond or oat milk)
Instructions
Preheat the oven to 200°C, gas mark 6.
Toss 75g cavolo nero with half the oil and paprika, season and spread out onto a large baking tray, roast for 10 minutes until crisp.
Meanwhile, heat remaining oil in a large saucepan and fry the remaining cavolo nero, leeks and potato for 5 minutes.
Add the stock, cover and simmer for 10 minutes then add the milk. Using a stick blender, process to give a coarse texture.
Divide between 4 bowls and top with the cavolo nero crisps.