Tacos with Spicy Spinach Potatoes and Mint Sauce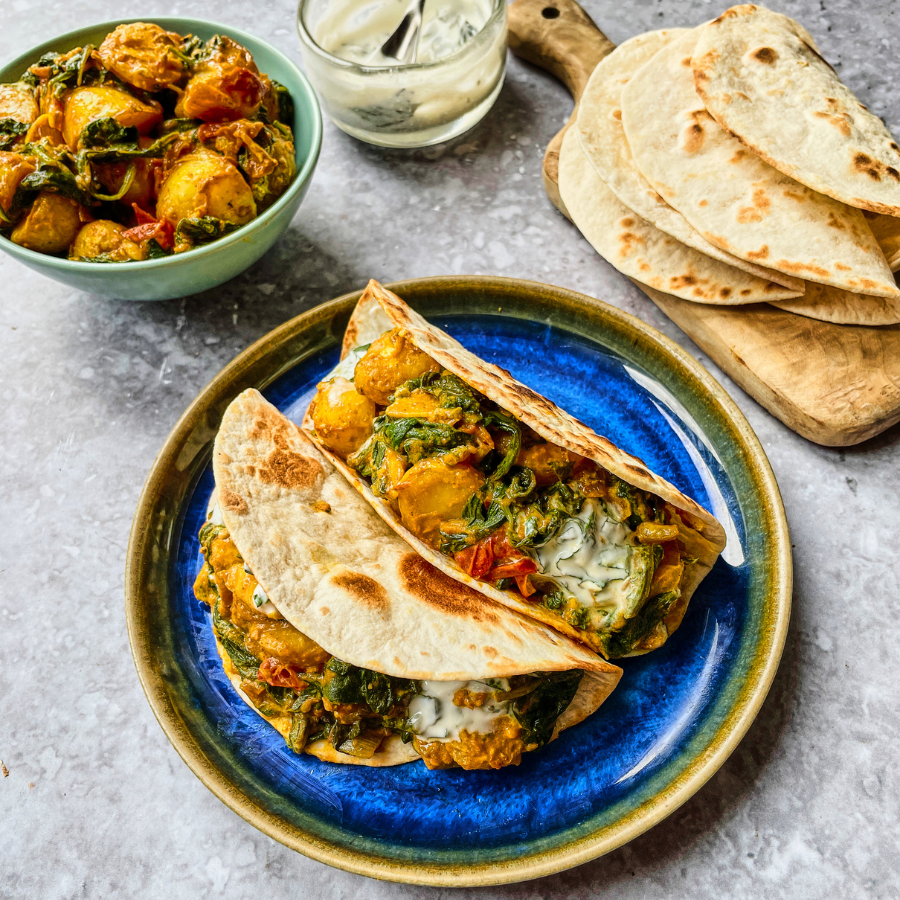 Nutrition Info
(Per Serving)
1.9g (of which Saturated Fat)
Ingredients
600g baby potatoes, halved
2 tbsp olive oil
1 red onion, sliced
3 cloves garlic, sliced
1 tsp cumin seeds
1 tsp turmeric
1 tsp garam masala
300g cherry tomatoes, chopped
2 tbsp soy sauce
260g bag of spinach
4 tbsp vegan yogurt or mayo
Handful fresh mint, shredded
8 small corn/wheat tacos
Instructions
1. In a large pan, bring salted water to the boil then add the potatoes. Boil for 10 minutes. Drain and set aside.
2. In the meantime, heat the oil in a medium saucepan over a medium heat then add the onion. Fry for 8-10 minutes until soft.
3. Now add the garlic and fry for 2-3 minutes. Stirring frequently.
4. Add the spices and stir to coat everything, then add the tomatoes, soy and allow to cook down for 5 minutes.
5. Add the cooked potatoes and spinach and cook for 3 minutes.
6. Season to taste.
7. To make the mint sauce, mix the yogurt and shredded mint in a bowl. Season to taste.
8. Cook the taco's according to the pack instructions.
10. Load with spiced potatoes and mint sauce