Chestnut, Chickpea and Spinach Tart by Jenna Hope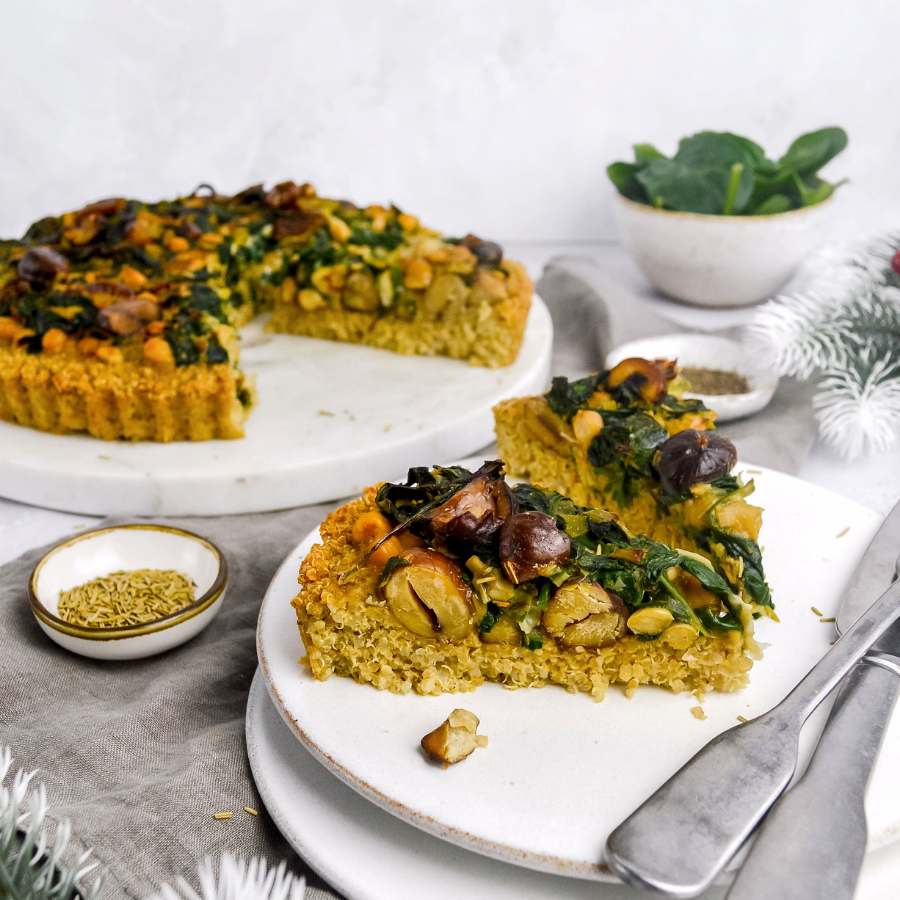 Nutrition Info
(Per Serving)
3.6g (of which Saturated Fat)
Ingredients
For the base:
250g Quinoa Pinch of salt
Pinch of pepper
2 Large eggs
For the Filling:
1 Tbsp Olive oil
1 Leek
2 Cloves of garlic
1 Tsp Salt
Pinch of pepper
2 Tsp Dried rosemary
1x 400g
Tin of chickpeas
150g Precooked Chestnuts
250g Spinach
4 Large eggs.
Instructions
1. Preheat the oven to 200°C.
2. Cook the quinoa as per the instructions on the packet and leave to cool.
3. Next heat the olive oil in a pan and thinly slice the leeks. Once the oil is hot add the leak to the pan and mince in the garlic cloves. Sauté until soft and then add the salt, pepper, rosemary, chickpeas and chestnuts and leave to cook over a medium heat for 5-10 minutes.
4. Finally, stir through the spinach and allow to wilt.
5. Set the filling aside and leave to cool. In the meantime, once the quinoa has cooled stir through the salt, pepper and eggs and then press into a greased pie dish. Spread evenly around the base and the sides, leaving a dip for the filling. Place in the oven for 8-10 minutes.
6. Once the filling has cooled down slightly, whisk up the eggs and add them to the filling. Then pour the filling into the base of the pie and bake in the oven at 180°C for 20-25 minutes until set.