Slow Roasted Pulled Pork with Spring Green Salad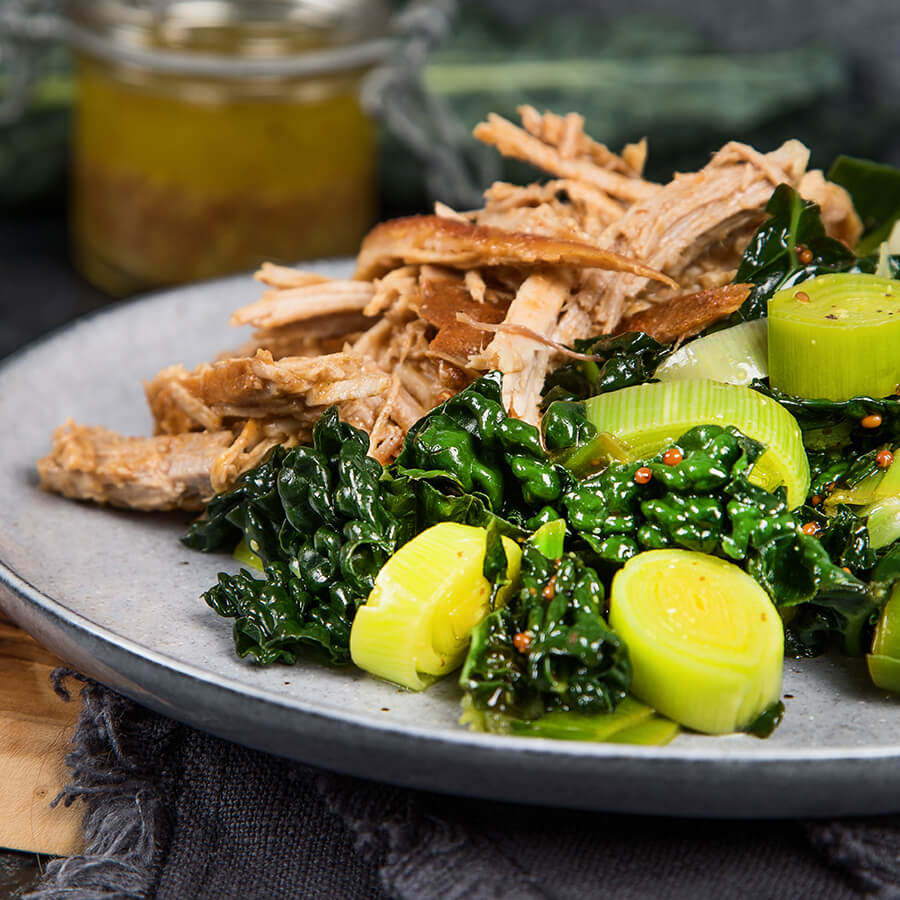 Nutrition Info
(Per Serving)
5g (of which Saturated Fat)
Ingredients
1kg boneless pork leg joint
1 tsp sweet smoked paprika
1 tbsp oil
400ml hot chicken stock
200g bag sliced cavolo nero
2 leeks, sliced

2 tbsp extra virgin olive oil
Juice 1 lemon
1 tbsp honey
1 tbsp wholegrain mustard

Instructions
Preheat the oven to 220°C, gas mark 7.
Unroll the pork and sprinkle the flesh with the paprika and seasoning. Place in a small roasting tin and drizzle with oil. Roast for 30 minutes.
Reduce the oven to 160°C, gas mark 3 and add the hot stock to the pan, cover the pork tightly with foil and roast for a further 3 hours, basting occasionally. Allow the pork to rest for 5-10 minutes then remove the skin and shred the meat with 2 forks, mixing it into any pan juices.
Meanwhile, steam the Cavolo Nero and leeks for 5 minutes. Allow to cool slightly.
Whisk together the olive oil, lemon juice, honey, mustard and seasoning as stir into the greens.
Serve the pulled pork with the warm spring green salad.