Skate Wings With Braised Leeks And Shrimp Beurre Noisette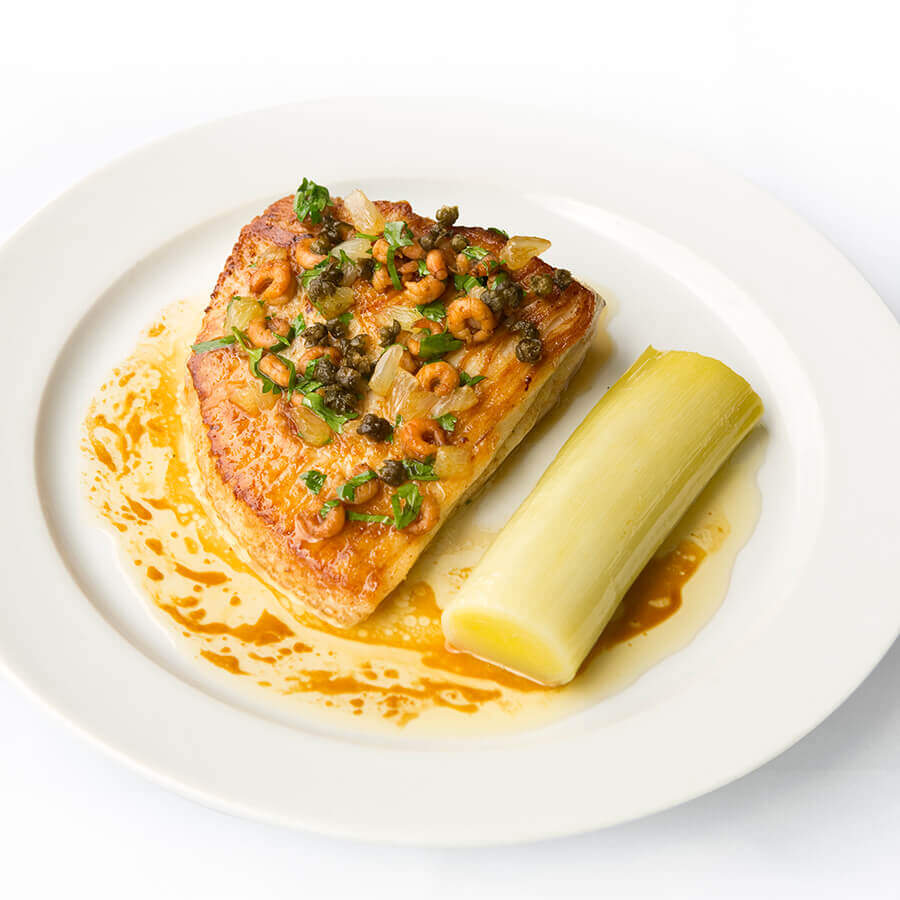 Nutrition Info
(Per Serving)
30.2g (of which Saturated Fat)
Ingredients
Skate:
4 skate wings
Braised leeks:
4 leeks
30g of butter
1 garlic clove, peeled
100ml of vegetable stock
Beurre noisette:
1 lemon, peeled and cut into segments
25g of brown shrimp
10g of capers
200g of butter li>
Chopped flat-leaf parsley li>
Instructions
Preheat the oven to 180°C/gas mark 4
First, braise the leeks. Trim the tops and roots from the leeks to create a clean, solid middle section approximately 15cm long. Place the leeks next to each other on a large piece of foil and fold up the edges to form an open parcel.
Add the butter, garlic clove and some seasoning to the leeks, then pour over the vegetable stock. Bring the foil together to form a tight parcel, sealing in the leeks and liquid, then place on a baking tray and cook in the oven for 25-35 minutes, or until the leeks are completely tender.
Meanwhile, place the butter in a small pan for the beurre noisette. Allow to melt over a medium-low heat until it turns light brown in colour and starts to smell of toasted nuts. Remove from the heat and leave to cool.
Prepare the skate wings by trimming the rounded edge by 5mm and trimming the cartilage down one side to give the wings neat edges. Each trimmed wing should weigh approximately 165g, if the wings are much larger you may need to halve them for cooking.
Place a large frying pan over a medium heat. Once hot add the skate wings and cook for 2-3 minutes on each side, seasoning with salt and pepper as they cook.
When ready to serve, roughly chop 6 segments of the lemon and stir into the cooled beurre noisette with the shrimp, capers, and some freshly chopped parsley. Season to taste and adjust as needed – add a little more lemon or parsley to balance the sauce if required.
Unwrap the braised leeks and add 1 leek (discarding the garlic and stock) to each plate. Add the cooked skate wings and spoon over the beurre noisette sauce to serve.