Poached Salmon, Pickled Cucumber & Cavolo Nero Salad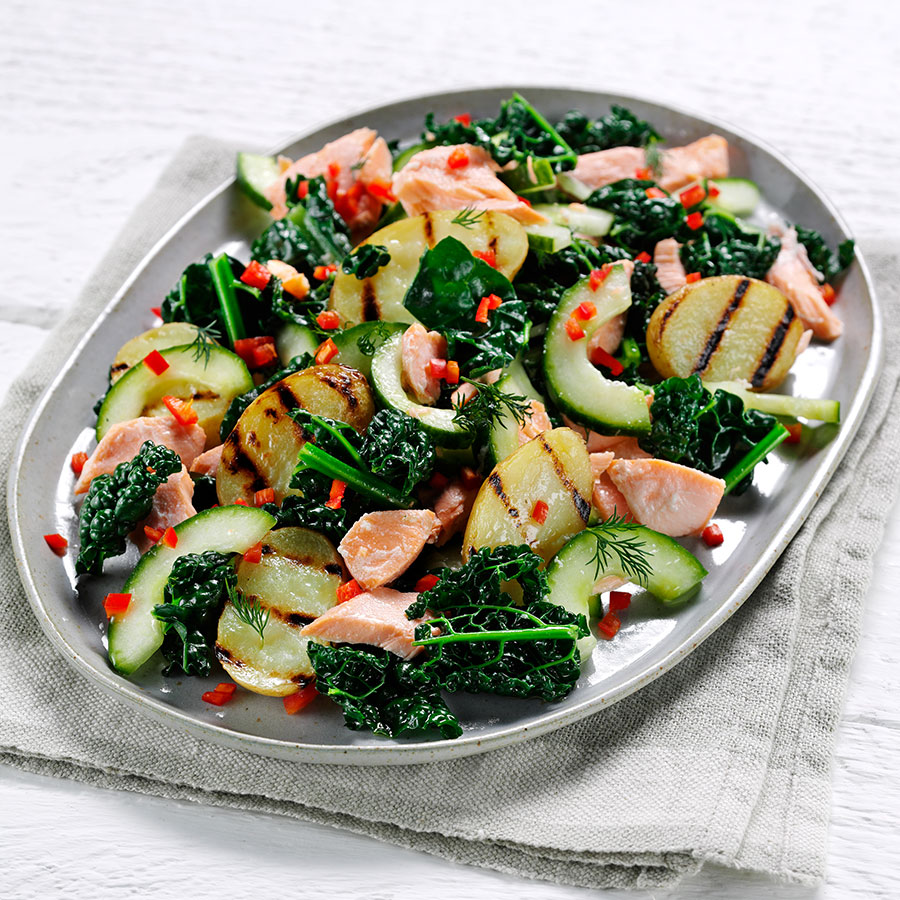 Nutrition Info
(Per Serving)
4g (of which Saturated Fat)
Ingredients
2 salmon fillets
1 cucumber
2 tbsp white wine vinegar
2 tsp caster sugar
1 tbsp chopped dill
275g baby new potatoes, thickly sliced
200g bag Cavolo Nero
1 tsp olive oil
1 red chilli, finely chopped
Instructions
Poach the salmon in a saucepan of boiling water for 6-8 minutes. Cool then remove the skin and break into flakes.
Meanwhile, halve the cucumber lengthways and scrape out the seeds with a teaspoon and then slice. Transfer to a bowl and mix in the vinegar, sugar, dill and seasoning. Set aside, stirring occasionally while preparing the rest of the salad.
Cook the potatoes in a large saucepan of boiling water for 6-8 minutes until just tender, remove with a slotted spoon, draining on kitchen paper and add the cavolo nero to the water, cook for 3 minutes and drain well.
Toss the potatoes with the oil and griddle for 4-5 minutes, turning half way until golden.
Mix the potatoes, salmon, chilli and cavolo nero into the cucumber, season and serve.