Penne with Kale, Roast Onions and Gorgonzola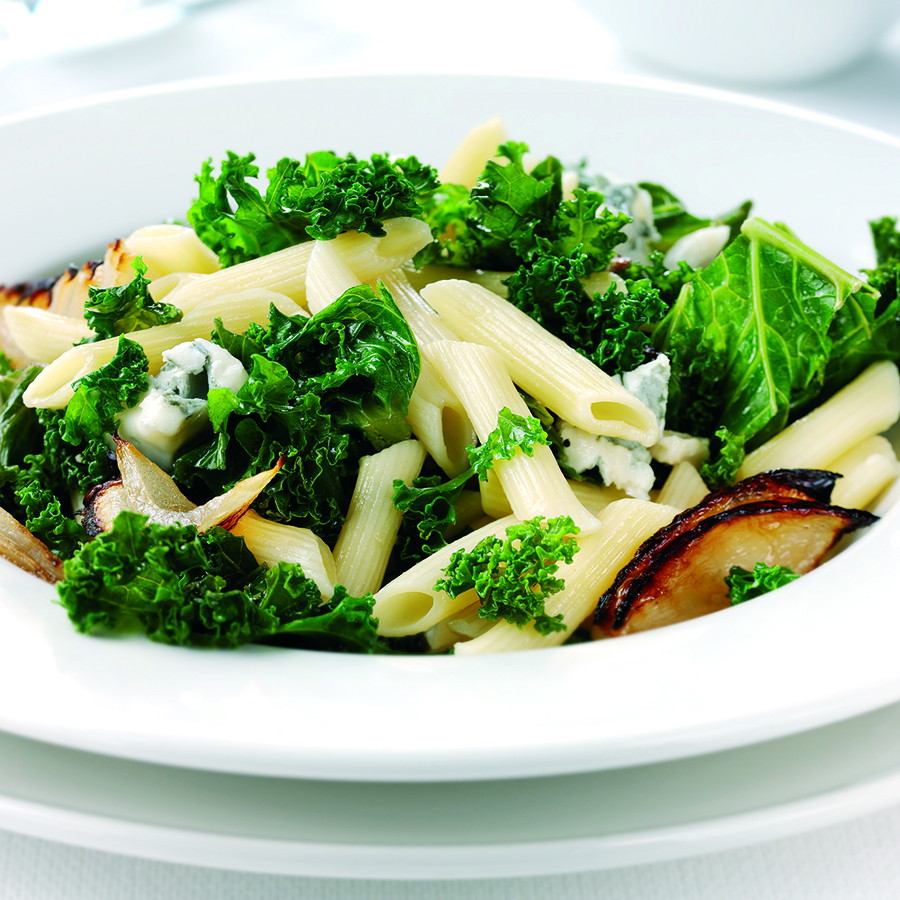 Nutrition Info
(Per Serving)
8g (of which Saturated Fat)
Ingredients
200g kale
3 large onions, peeled
6 tbsp olive oil
2 tbsp balsamic vinegar
Salt and pepper
300g pasta
100g gorgonzola, crumbled
Extra virgin olive oil to serve (optional)
Instructions
Place the kale into a large saucepan and cover with water.
Bring to the boil and cook for 5 minutes, then drain really well and set aside.
Halve the onions lengthways then cut each half into crescent moon shaped slices, about 1cm thick at the thickest part.
Toss these in a roasting tin with 4 tbsp of the olive oil, the balsamic, and season to taste.
Roast in a preheated at 200°C, gas mark 6 for 30-35 minutes, stirring occasionally.
The onions should be tender and slightly charred.
While the onions are roasting cook the pasta in plenty of boiling salted water for about 15 minutes (it should be al dente).
Drain and return the pasta to the saucepan.
Add the drained kale along with 2 tbsp of olive oil and adjust the seasoning if required.
Cook over a medium heat until the kale has warmed through.
Gently stir in the onions and cheese then drizzle with extra virgin olive oil if required and serve immediately.
Alternative suggestion: If you're not keen on blue cheeses you could use a strong goats' cheese instead.
Toasted walnuts are also good tossed into the mix.