Sausage, Kale & Puy Lentil Casserole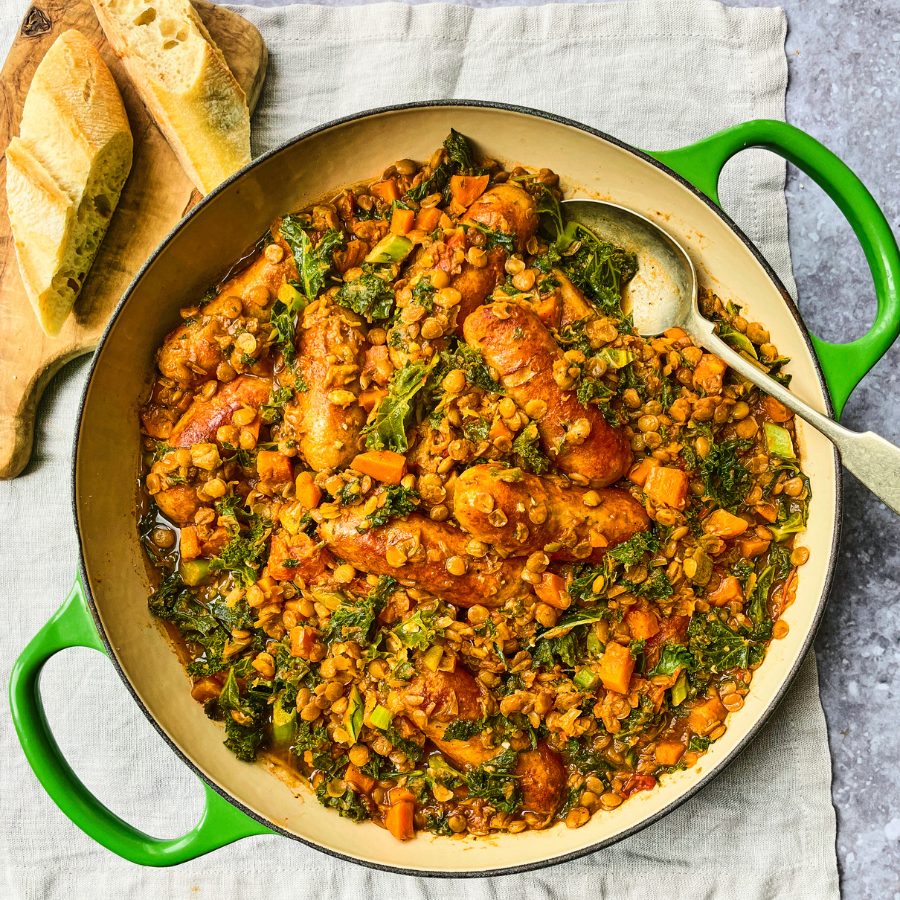 Nutrition Info
(Per Serving)
5.5g (of which Saturated Fat)
Ingredients
2 tbsp olive oil
2x 454g pack of 8 reduced fat sausages
2 leeks, cleaned and sliced
3 garlic cloves, sliced
1 tbsp smoked paprika
1 tsp dried oregano
3 carrots, finely chopped
4 tomatoes, chopped
2 tbsp sun dried tomato paste
300g dark green French or puy lentils, rinsed
1.5 litres vegetable stock (made up from Kallo very low salt stock cubes)
250g bag of kale
Instructions
1. Heat 1 tbsp of oil in a large non-stick frying pan and fry the sausages (in batches) gently for 10 minutes, turning occasionally, until browned all over. Remove from the pan and set aside.
2. In the meantime, add the remaining oil and the leeks to a large pan (34 cm) and fry gently on a low heat for around 7-8 minutes until soft and browning. Add the garlic, paprika, oregano, and carrots and fry for 2-3 minutes,
3. Next add the tomatoes, tomato paste, lentils, sausages and stock, stir to combine.
4. Bring to the boil then cook on a low heat for approx 30 minutes. Add more stock if needed.
5. Finally add in the kale, simmer until wilted and then season to taste.