Lemon & Kale Chicken Tagine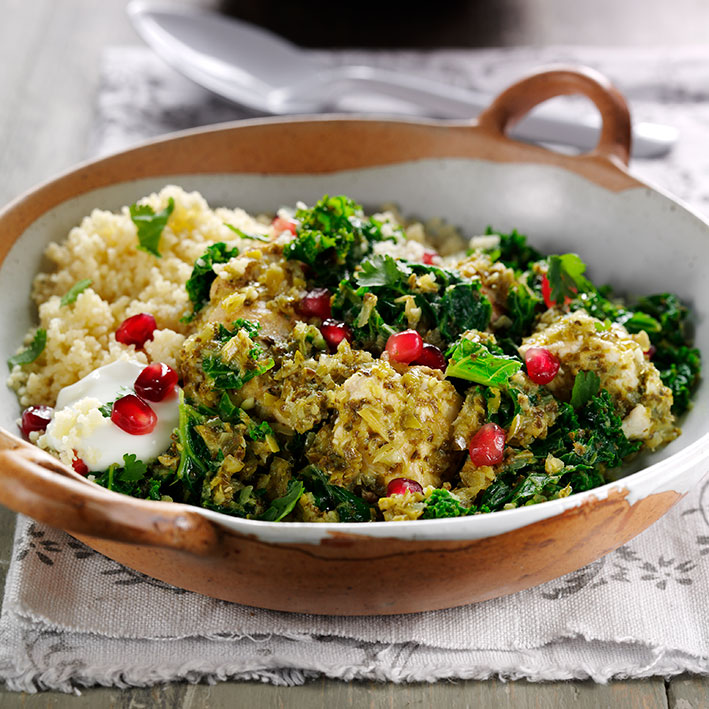 Nutrition Info
(Per Serving)
0.7g (of which Saturated Fat)
Ingredients
2 preserved lemons, roughly chopped
28g pack coriander
2 cloves garlic
150g leeks, sliced
250g pack kale
200ml chicken stock
500g chicken breast fillets, cut into large chunks
200g couscous
Fat free natural yogurt and pomegranate seeds to serve
Instructions
Preheat the oven to 200°C, gas mark 6.
Place the lemons, coriander including the stalks, garlic, leek and 50g kale into a food processor with the stock and blitz to give a coarse paste.
Heat the paste in a frying pan with the chicken for 5 minutes and transfer to a casserole dish, cover with a lid and cook for 20-25 minutes until the chicken is cooked through.
Meanwhile, blanch the remaining kale in boiling water for 3 minutes and then stir into the chicken tagine.
Place the couscous in a small bowl and pour over 200ml boiling water, cover with clingfilm and leave for 5 minutes, fluff up with a fork and serve with the tagine and a spoonful of fat free natural yogurt.