Kale has become one of the nation's favourite vegetables, loved for both its nutritional profile and versatility. Like its 'Italian' cousin, cavolo nero, it's part of the cabbage family and has dark green, attractive curly leaves.
We're certainly big fans of this brassica and hope you are too, but should you need any more persuasion, here's our top 3 reasons why we love kale:
It's good for you. In every handful of kale there are lots of nutrients that play an important part in a healthy balanced diet. Kale is an excellent source of vitamins K, A and C, which help your immune system function and help maintain healthy skin and bones. Kale is also rich in lutein, an antioxidant that can help keep eyes healthy.
It's versatile. Whether you whiz it up raw with ginger and fruit juice for breakfast, stir a handful into your favourite soup, serve in a salad or add to casseroles, curries or pasta dishes – kale is wonderfully versatile and can be enjoyed in a variety of meals throughout the day. Kale is also super easy to cook with - simply steam, boil, braise, bake, microwave or stir fry and add to your favourite dishes.
It tastes great! Because we all actually want to enjoy what we eat. Kale has a strong, distinctive taste which complements a host of different flavours and foods. For some tasty ways to use kale in your cooking, take a look at our recipe page for lots of delicious inspiration.
To get you started, here's a few of our favourite ways to enjoy this great green.
This Pilaf dish is full of colour and flavour and makes a delicious meal for any day of the week.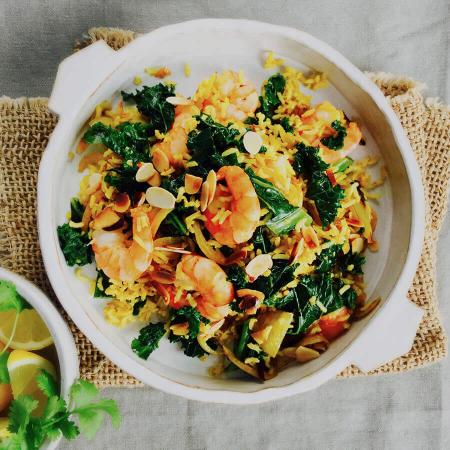 A great quick and easy snack, these kale crisps couldn't be simpler to make and are deliciously moreish! Flavored seasonings such as Cajun or Jerk also work well too.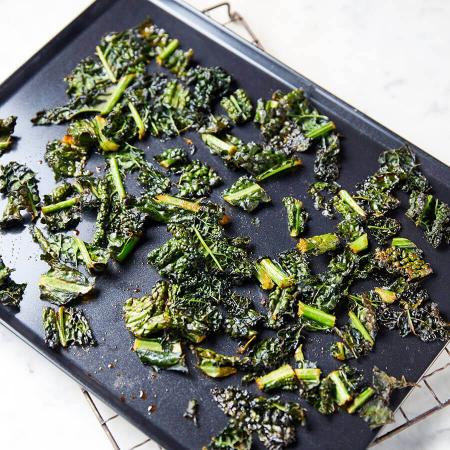 A perfect veggie addition to the BBQ, these Tuna & Kale burgers are super easy to make and packed full of flavour. This recipe serves 4 and takes just 10 minutes to cook.