Renowned cookery writer, Rosemary Moon is an expert in perfecting food pairings for optimum flavour and here she's given us her favourite combinations for kale and cavolo nero. You may already know what some of these tasty combinations, but others may take you by surprise!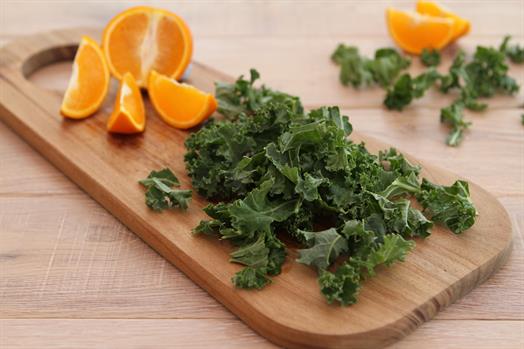 5 matches with Kale:
Oranges
Juicy segments of orange cooked with butter, olive oil or even a little orange juice add a lovely natural sweetness to kale which works perfectly in stir-fries, salads or sautés. The heavenly combination of orange and kale can also make a marvellous sauce to bridge the flavour of kale with other ingredients such as meat or poultry in a one-pan supper dish.
Rosemary - the aromatic pungency of freshly chopped rosemary really complements kale. Use kale and rosemary together in savoury flans, vegetable bakes and snacks, like these tasty Rosemary & Sea Salt Kale Chips. If you you're boiling or steaming kale leaves then why not add a sprig of rosemary for a delicate hint of flavour.
Coconut - toasted coconut or coconut milk, puts kale in a Pacific Rim mood. Kale and coconut is a great combo for stir-fries or as a basic filling for spring rolls and rice wraps. Try boiling shredded kale in coconut milk so that the milk reduces to a thick and slightly oily dressing or sauce.
Raisins - very finely chopped raw kale makes a great winter tabbouleh stirred into hot bulgur wheat. Extra virgin olive oil, seasonings and lots of raisins make a great lunch or salad accompaniment, like this Kale with Raisins & Pine Nut Salad.
Bacon - any preserved pork goes well with kale but bacon gets my vote. Smoked streaky is my top choice as the almost perfect combination of salt and fat. Add chopped tomatoes and whatever else you wish with a grain for pilaf, or just pour some cream over the sautéed bacon and leave in a dish and top with cheese and breadcrumbs, then bake until brown.
An extra:Almond butter - less pungent than tahini, almond butter adds creaminess to kale when the leaves are cooked in a tomato sauce with a little paprika. Stir the almond butter in at the last moment to season the kale and its sauce.
5 matches with Cavolo Nero:

Chicken - shredded cavolo nero cooked in chicken juices and water or stock makes a delicious Italian pot-roast style accompaniment. Simply spoon the juicy cavolo nero over the freshly cooked chicken for added flavour to a traditional dish.
Nutmeg - nutmeg is a great spice with cavolo nero. Add both to Bolognese sauces, or just add sauté coarsely shredded leaves in olive oil and butter with the freshly grated spice to make delicious cavolo nero crisps.
Sweet potato - Sweet potato cooked together with cavolo nero, onion and a little chilli makes a fabulous soup. Another tasty cavolo nero and sweet potato combination is this hearty Lentil, Sweet Potato and Cavolo Nero Winter Soup.
Beans - bean stews with cavolo nero are richly flavoured and perfect for the colder months. My favourite beans are borlottis and Black Badger carlin peas, (a traditional British bean.) Cook the beans in your favourite casserole and then add the shredded cavolo nero leaves at the last moment for maximum texture and flavour.
Plaice - a sauté of shredded cavolo nero with sun-dried tomatoes in oil, garlic, lemon and parsley is delicious with simply cooked plaice, and dramatic on the plate too! If you can't get enough of the delightful plaice and cavolo nero combo then why not try this tasty Whole Baked Plaice with Cavolo Nero, Thyme, Celeriac Walnuts and Apple too!
An extra: Rhubarb - this Chinese vegetable makes wonderful sauces when added to meat casseroles and one-pan supper dishes, much as you would use a Bramley apple. The colour and acidity work well with cavolo nero but you might need to add a little sugar along with other seasonings. A real talking point. Try adding sesame seeds too.