Cold and crisp mornings, dark and frosty nights, it's a sure sign that winter is on its way! It's the perfect time of year to warm up with a delicious bowl of soup, and making your own is easier than you might think! Kale is ideal for adding into a hearty winter soup, as it adds colour, texture and a great flavour.
Vegetable soups are a great way to make sure you're getting a few of your 5-a-day in to one meal, just what you need to keep the winter coughs and colds at bay! We've put together a few of our favourite soup recipes for you to try this month, so get ready to tuck into some top comfort food with Discover Kale!
This Hearty Kale Soup is the ultimate winter warmer. Packed with fresh, seasonal veg it's bursting with flavour, and the addition of barley makes this dish ideal for a lunch that'll keep you full until dinner time! Serve with a crusty roll and top with fresh chopped parsley.
Broccoli & Kale Green Soup – BBC Good Food
This super healthy soup combines broccoli and kale with ginger, coriander and turmeric for a nutrient dense and low-fat lunch. Ideal if you're trying to keep yourself healthy to fight off those winter bugs!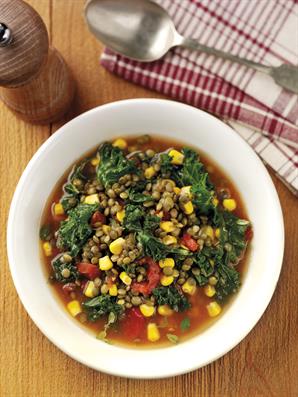 This Winter Lentil & Kale Soup is one of our favourites to have for lunch this season. You can be as creative as you like with it too, by adding fresh chillies for extra heat, or some smoky bacon for extra flavour. Make sure you've got some crusty bread or a roll to hand too, for mopping up the left overs!
Jools' Wholesome Veg & Bean Soup
This Wholesome Veg & Bean Soup from Jools Oliver is a great one for the kids, so you can make sure they're well on their way to 5-a-day by lunch time! This soup can be blended to a smooth consistency or left chunky, and for something slightly more filling you can use pearl barley instead of beans.
Chicken, Kale & Pesto Soup – Delicious
This Chicken, Kale and Pesto Soup makes a quick and easy mid-week dinner. Change up this dish by swapping the freekeh for other mixed grains, wholegrain rice or small pasta shapes such as macaroni. A few parmesan shavings sprinkled over the soup would also taste great!
For more recipe inspiration and tips on cooking with kale, check out our Facebook & Instagram @DiscoverGreatVeg