Pork & Kale Meatballs with Tomato Spaghetti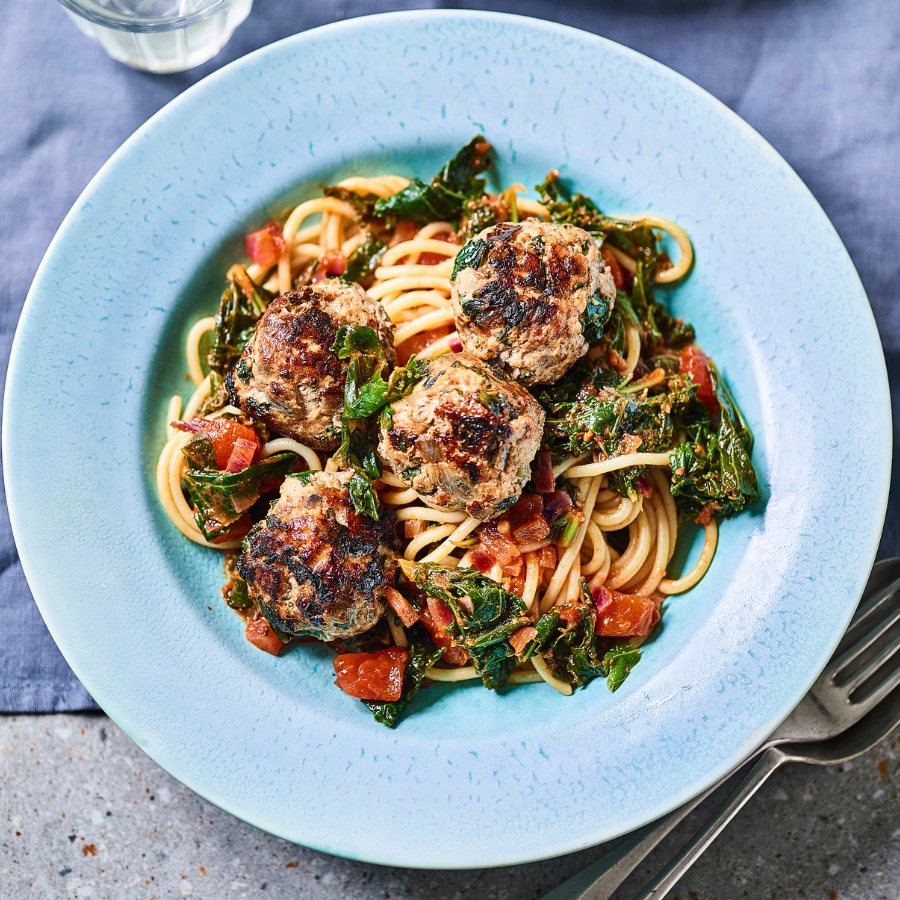 Nutrition Info
(Per Serving)
6.6g (of which Saturated Fat)
Ingredients
250g bag kale
2 tbsp oil
1 red onion, finely chopped
500g minced pork
1 tsp Italian seasoning
3 tbsp sun dried tomato pesto
250g spaghetti
400g can chopped tomatoes
2 tsp balsamic vinegar
Instructions
1. Cook the kale in boiling water for 3-4 minutes, drain well. Squeeze out the excess moisture from half the kale and finely chop.
2. Heat 1 tbsp oil in a frying pan and fry the onion for 4-5 minutes until golden, transfer half to a large bowl and mix in the pork, chopped kale, Italian seasoning and 1 tbsp pesto, season and mix well. Divide into 16 balls. Set aside the remaining onions.
3. Heat the remaining oil in the same frying pan and fry the meatballs for 10-15 minutes until cooked through Remove and set aside.
4. Meanwhile, cook the spaghetti according to pack instructions, drain, reserving a little of the cooking water. Return the reserved onions to the same frying pan, add the chopped tomatoes, vinegar, remaining pesto and kale and bring to the boil, stir in the spaghetti and a little of the cooking water and stir to evenly coat. Season.
5. Serve the tomato spaghetti topped with the meatballs.