Easy Saag Aloo by Amy Sheppard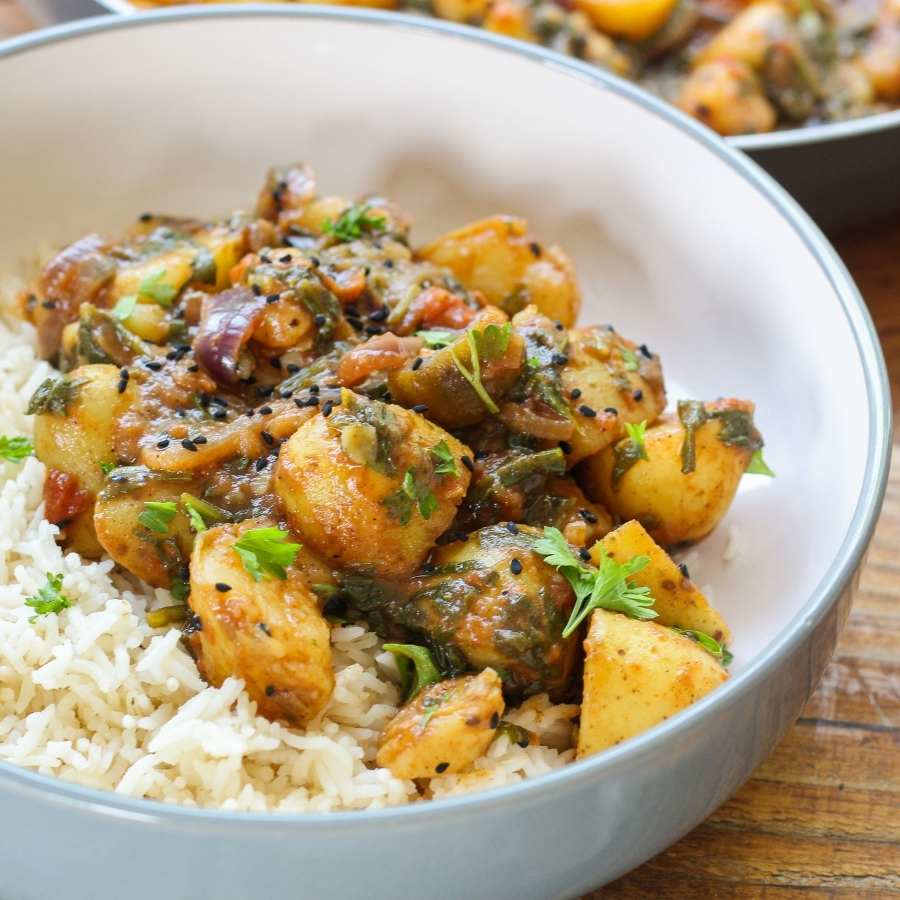 Nutrition Info
(Per Serving)
0.7g (of which Saturated Fat)
Ingredients
1kg new potatoes

Vegetable oil for frying

Red onion finely sliced

250g bag of fresh spinach, roughly chopped, if preferred or leave as is for speed

2 cloves garlic, finely chopped

1.5 tbsp medium, curry powder

1tsp black onion seeds (plus a little extra to sprinkle over the top)

400g tin chopped tomatoes

500ml vegetable stock

Instructions
1. Cut the potatoes in half (thirds for bigger potatoes) and place in a saucepan of cold, salted water.
2. Bring the water to the boil and when bubbling, simmer for 15 minutes or until tender. Drain and set aside.
3. Heat a drizzle of oil in a large deep frying pan. Add the red onion and fry for 5 minutes on a medium heat until soft.
4. Add the spinach and stir for 2 minutes until wilted.
5. Stir in the garlic, curry powder and black onion seeds and fry for 1 minute.
6. Drain the liquid from the tinned tomatoes in a colander. Discard the juice and add the tomatoes to the pan.
7. Stir in the drained potatoes, stock and season with salt and pepper.
8. Simmer on a medium heat for 10 minutes, stirring regularly until the stock has reduced and thickened. Don't worry if the potatoes break up a little, it will help them to absorb some of the flavour of the sauce.
9. Serve on a bed of rice and sprinkle with a few black onion seeds