Crispy Cavolo Nero with Crushed Butterbeans and Hazelnuts on Toast by Rebel Recipes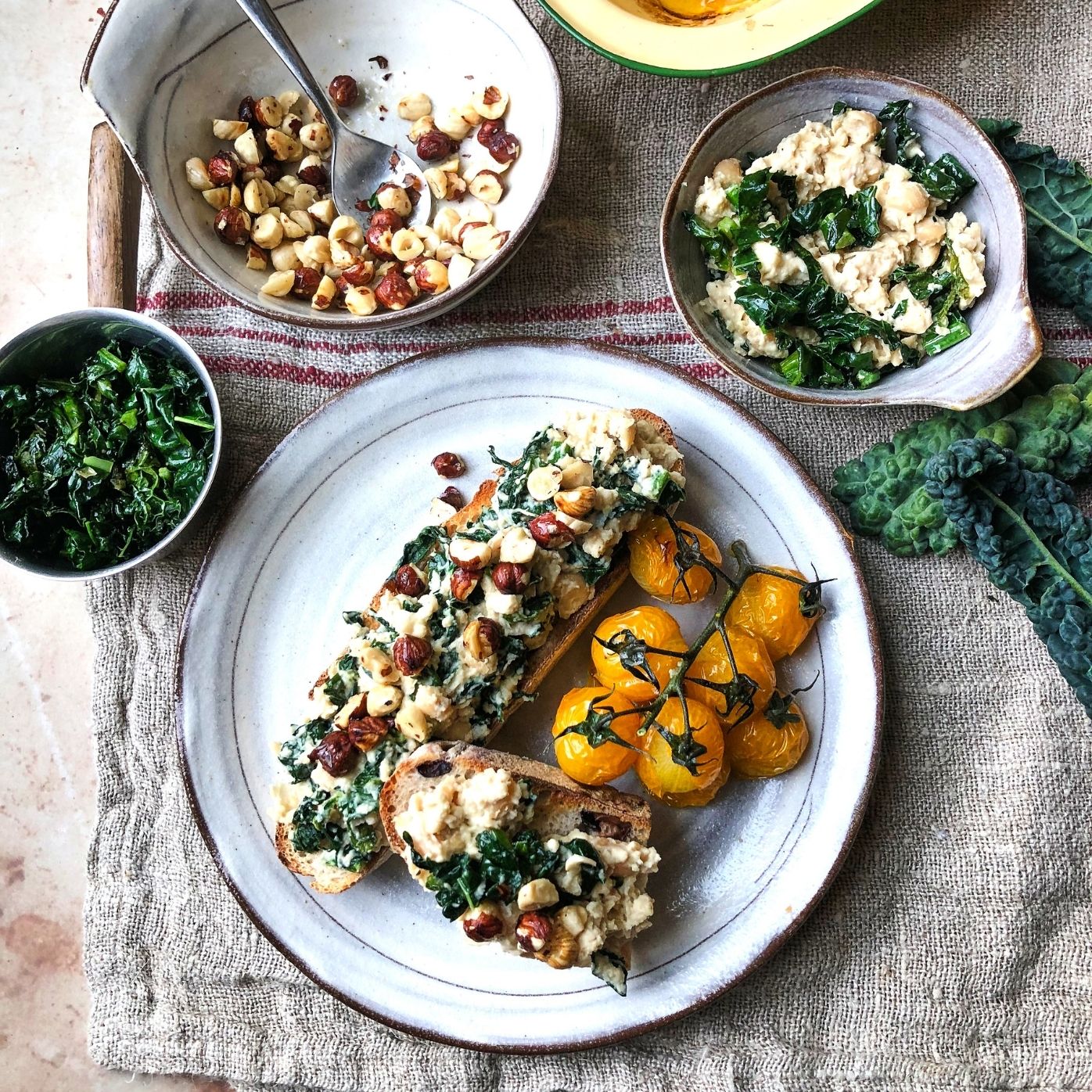 Nutrition Info
(Per Serving)
5.3g (of which Saturated Fat)
Ingredients
Roast tomatoes;
250g cherry tomatoes - I used yellow
Splash olive oil
Pinch sea salt flakes
For the cavolo nero;
1 tbsp olive oil
6 leaves of cavolo nero shredded
Big pinch sea salt flakes
Black pepper
Caramelised hazelnuts;
3 tbsp hazelnuts
1/2 tsp maple
Pinch sea salt flakes
Butter bean mash;
1 can butter beans drained
Juice 1/2 lemon
2 tbsp olive oil
1/2 sea salt
1/4 tsp garlic granules
1 tbsp tahini
2 slices of toast of choice
Drizzle of extra virgin olive oil.
Instructions
To roast the tomatoes
1. Add the cherry tomatoes to a large baking tray and toss them in 1 tbsp of olive oil. Bake on a medium heat for 25- 30 minutes or until soft and browning a little. Set aside
To cook the cavolo nero
2. Add the olive oil to a frying pan and then add the cavolo Nero
3. Fry for a few minutes on a medium heat until cooked and crispy
4. Add the sea salt and black pepper and then set aside.
To make the crushed butter beans
5. Add the butter beans into a bowl along with the other ingredients.
6. With a fork mash roughly then add in 3/4 of the crispy cavolo nero. Stir to combine.
For the hazelnuts
7. Dry toast the hazelnuts in a pan for a few minutes until lightly toasted.
8. Remove from the heat then crush slightly.
9. Add to a bowl and stir in the maple syrup and sea salt. Set aside.
To serve
10. Dollop the crushed beans onto the toast, top with caramelised hazelnuts, the remaining crispy cavolo nero and a drizzle of olive oil.
Serve with the roast tomatoes.