Cavolo Nero Caesar Salad with Smoky Chickpeas by Cupful of Kale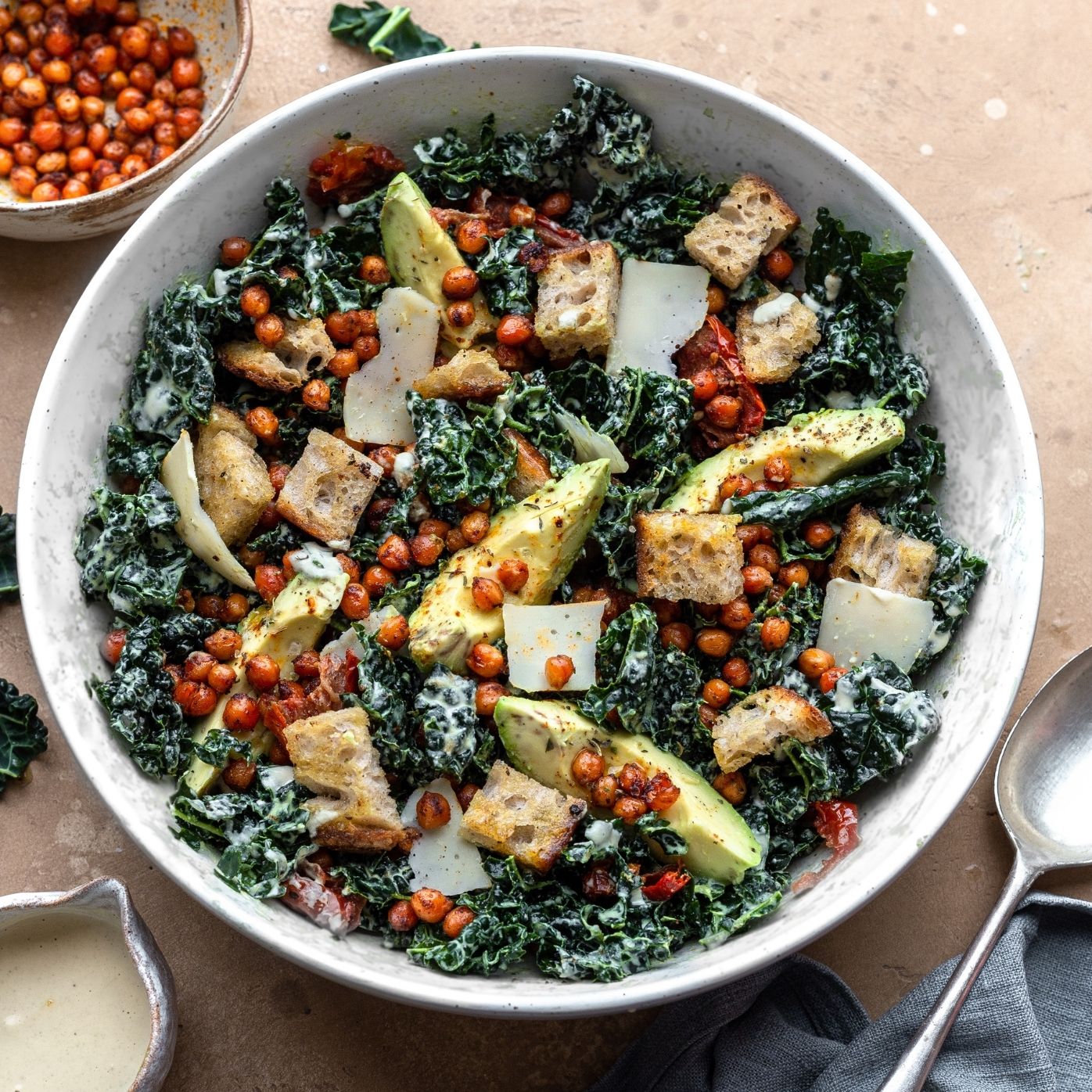 Nutrition Info
(Per Serving)
4g (of which Saturated Fat)
Ingredients
200g cavolo nero
3 slices sourdough
2 avocados
6 sun dried tomatoes, in oil
Vegan parmesan
Smoky chickpeas:
1 tin (400g) chickpeas
1 tbsp oil
1 tbsp smoked paprika
1 tsp maple syrup
1 tsp soy sauce
½ tsp garlic powder
Black pepper
Dressing:
1 cup/140g cashews
¾ cup / 180ml water
4 tbsp nutritional yeast
2 tsp capers
1 tsp dijon mustard
2 garlic cloves
½ tsp salt
Juice of 1 lemon
Instructions
Preheat the oven to 180C. Drain chickpeas and place on a baking tray with 1 tbsp of oil. Place in the oven for 10 minutes. Toss with smoked paprika, maple syrup, soy sauce, garlic and black pepper and place in the oven for a further 15 minutes.
Wash and destem the cavolo nero. Roughly slice into 1 inch pieces. Drizzle with some olive oil and massage with your hands for a few minutes. It will reduce in size and darken in colour.
Place the dressing ingredients in a high speed blender and then pour over the cavolo nero. Toss until well coated.
Cut the sourdough into crouton sized pieces and drizzle in some olive oil, salt and pepper. Pop in the oven for 5-6 minutes until toasted and golden.
The chickpeas should be crispy, remove from the oven.
Assemble the salad. Slice avocado and place on top of the cavolo nero along with the chickpeas, sun dried tomatoes, sourdough croutons and shavings of vegan parmesan!